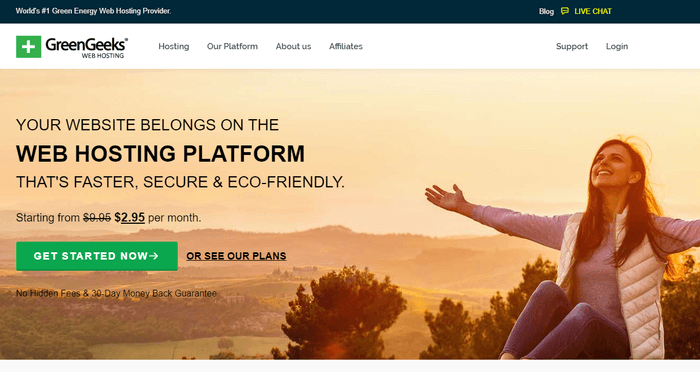 Services And Features
Green Geeks provide four different hosting types with different feature sets for each. The first and most popular being Green Web Hosting. The lowest plan, which is $2.95/month currently, offers plenty of features in itself that allows you to get started right away. You will have access to a variety of unlimited essentials, such as data transfer, SSD web space, sub & parked domains, and MySQL databases. Other vital features include e-commerce capabilities, performance features, and monitoring, as well as plenty of developer-friendly support. Pro and Premium plans are also offered for web hosting. These plans are best for growing websites and small businesses, respectively.
WordPress is a popular website used by many bloggers, so having help in web hosting specifically for WordPress can be a must for some users. The plans are similar to the basic web hosting service provided by Green Geeks, even starting at the same price per month. Green Geeks is an Official Global Sponsor of Word Camp, which provides several benefits, including 1-click WordPress install, automatic updates, free migration to WordPress, and super-fast page loading. Green Geeks claim that several third-party benchmark tests have named them as a high-speed WordPress host and claiming to be one of the fastest.
Sign Up
When deciding that Green Geeks is the web hosting platform you want to try, you can sign up for an account quickly and easily. You must have an email address and password ready for account creation and you first must choose the type of hosting you are looking for. Their payment page is one of the most simple we've seen with very little extras causing distractions. They offer subscriptions for 1 month, 1, 2 and 3 years and you can choose your server location at no extra charge.
On completion of sign up you will receive a simple thank you message and a second email containing your login details for the new account. This will include your domain name, the chosen plan, billing cycle information, login details, name server settings, email settings, and a temporary URL. The temporary URL is used until your domain is registered to Green Geeks.
Upon successful registration of your domain name, you will receive a registration email, including the details of that plan, as well as an invoice email containing the package and price details that you have chosen. Signing up for Green Geeks is an easy process with plenty of emails containing details of your chosen plan and information inputted.
If you are confident about your website needs and have selected the right hosting plan for you, the process is simple, quick, and easy. If you are unsure of the plan you wish to choose, you can chat with the support team for advice.
Website Builder And Control Panel
After choosing your desired plan and signing up, building your website's visuals is an important step. Green Geeks allows you to use a website building feature known as SitePad. Utilizing this feature will let you quickly put together a website that can gain a presence online easily. Installing SitePad will allow you to build a simple website.

cPanel is a type of control panel offered to use the web builder as well as other software such as optimizing your website or installing various apps. SitePad provides a few themes for you to choose from based on categories, once you've installed the theme of your liking, you can easily apply it to your website.

If you are having trouble building your website, you have the option to utilize an assistant feature that can help answer your questions or solve your problems. This help window will automatically appear on your screen. If this is an additional site you are building and are already familiar with SitePad, you can easily disable this assistant feature to have more room to work. Even if you accidentally disable it, there is still a simple button click to enable it once more. This feature allows for easy site-building if you are inexperienced or need just a little extra help.
Customer Support
The Green Geeks website offers information to contact someone in several forms, including email, phone numbers, the headquarters address, and even an instant chat button to connect with a customer service expert quickly.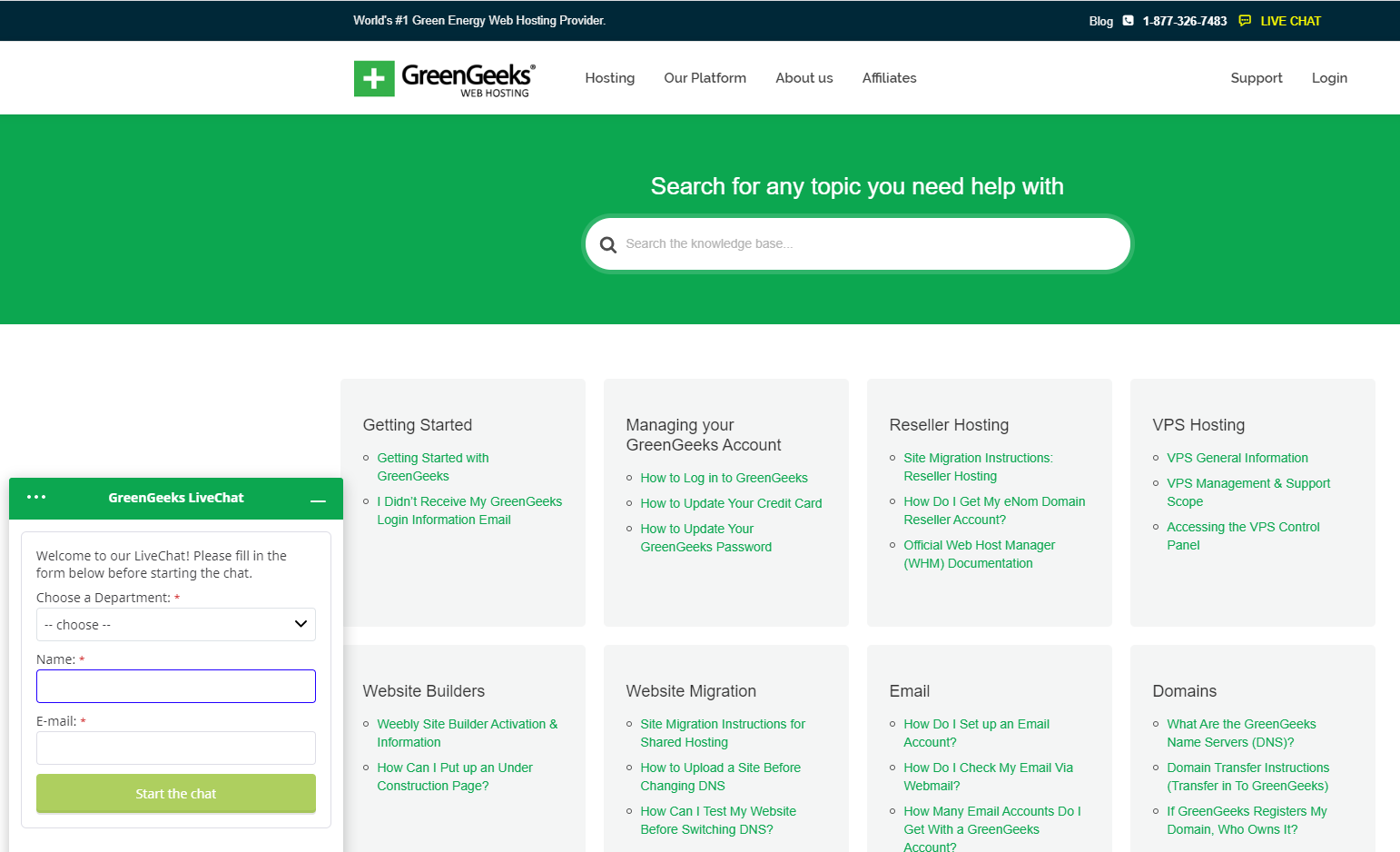 By having several methods and options to contact a representative, you should be able to get a response from the team quickly and efficiently. All of them are experts in the various web hosting fields and services provided by Green Geeks, allowing you to be confident in the information they can provide.
Domains And Email
Choosing a domain name for your website is a must and a service that is provided by Green Geeks. If registering a new domain, Green Geeks allow you to register one free name upon opening a hosting account, remember to choose something unique.
Domain names can typically be registered and activated within an hour, but it is possible to have a higher wait time depending on your locations and ISP. You will receive an email for each new stage in the creation process to help you along, but you also have the option to chat with the Green Geeks support team if you are having trouble creating your account or understanding how to register your domain name.
The support team is of expert level and friendly, so they should be able to answer most questions and help you progress quickly. If you wish to create and register more domain names for multiple websites, you have that option as well. You simply have to login to your Green Geeks account and register more domain names the same way. However, if you have already registered one domain name with Green Geeks, depending on the chosen plan, you may have to pay extra for multiple domains being active at one time.
Along with their web hosting services, Green Geeks offers advanced email hosting, including unlimited email accounts and forwarders, email spam protection, free daily backup service and 24/7 support. Green Geeks operates secure IMAP POP3, and SMTP servers, providing you with fast and safe services.
In summary, Green Geeks has several options, all eco-friendly, that should meet your web hosting needs. They have several plans to choose from based on your desired budget, an expert and responsive customer service team, and easy-to-use software for domain name registering and website building.