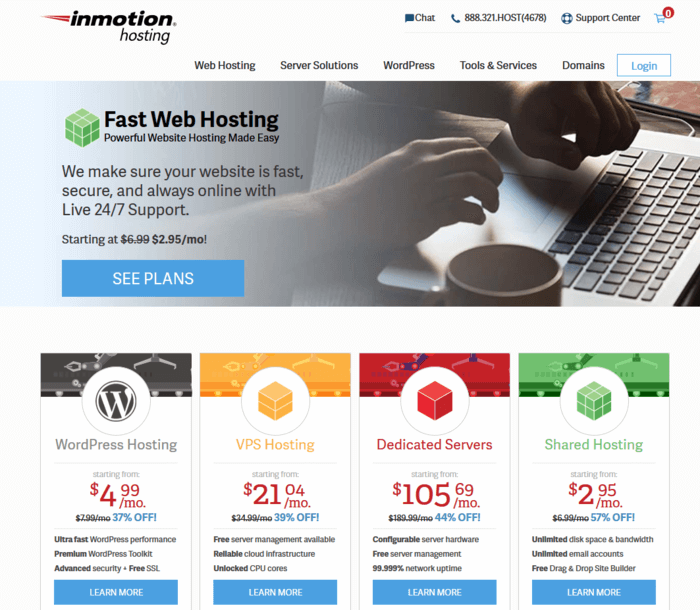 Services And Features
It's common to find the Inmotion shared hosting plans at a discounted rate. Each of the plans comes with free SSL, Security Suite, and marketing tools along with Unlimited storage and bandwidth, unlimited email, plus a free domain. The differences between the three plans are in performance and in the number of websites that are supported by the Plan.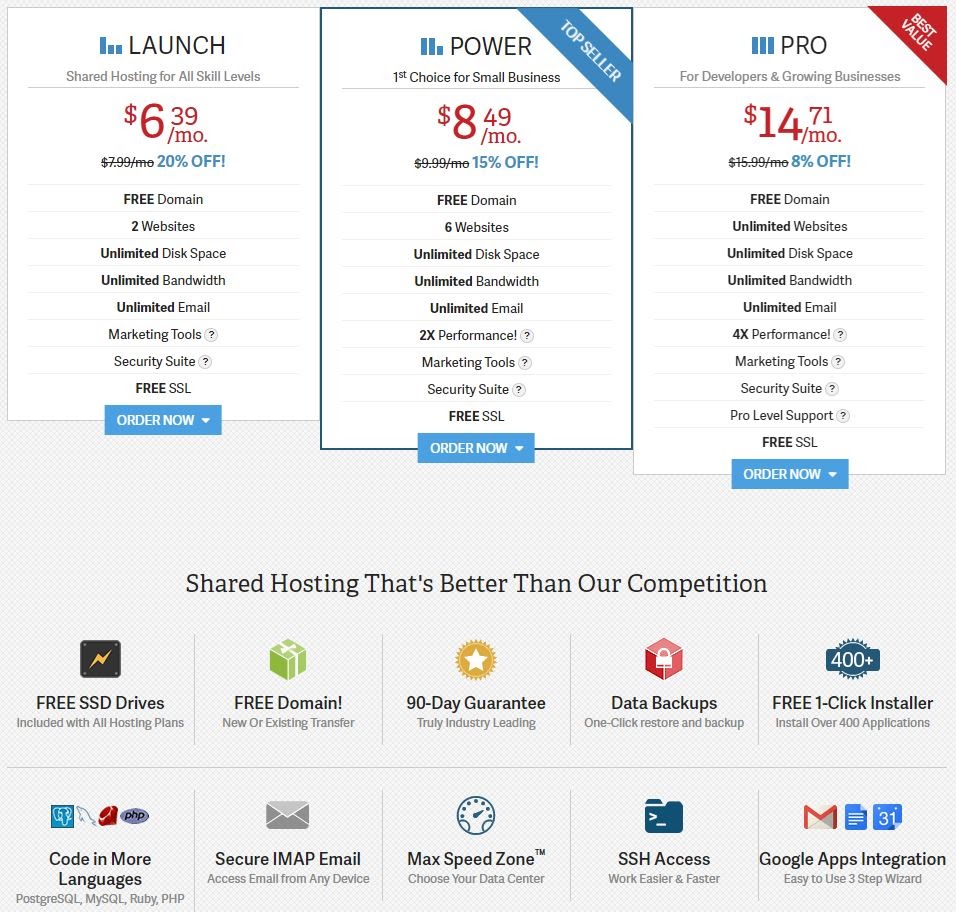 Inmotion have invested quite a bit in their security. They offer free SSL, protection from hackers, auto-updating software, DDoS protection, and a custom firewall. For those that want an extra level of security, Inmotion does offer the option of contacting them for additional methods such as OSSsec and CSF/LFD.
As well as Dedicated and VPS hosting, Inmotion also has Website Design Services available upon consultation. The service delivers a custom-tailored website solution that is responsive and built on WordPress. Hosting is included in this package. The consultation is free, and there is no obligation to buy.
Sign Up
If opting for Shared Hosting, Inmotion offers three plans to choose from. All plans have a 90-day money-back guarantee and 24/7 customer support. As well as a free domain, free SSD drives, unlimited disk space, unlimited bandwidth, unlimited email, marketing tools, and a security suite. Their pricing is slightly higher than the industry standard but as you can see their features reflect that.
After choosing your desired plan and reaching their order form you will be presented with plenty of additional services including data center location and one-click Auto Installer, which are both free, as well as paid options like Backup Manager and Quick Starter page builder.
Next you choose your domain, a new one, one you already own or you can opt to choose later and a temporary domain is assigned to your account. The usual personal details are asked for on sign up and payment can be made using a credit or debit card, PayPal or US purchase or check order.
Website Builder And Control Panel
InMotion offers a completely free Wordpress website builder tool called BoldGrid. The BoldGrid Wordpress integration was created for a seamless and easy web page building. This tool is fantastic for beginners. It is also extremely powerful for users with more experience. BoldGrid speeds up the design process with gridlocks.
Users will need to download BoldGrid for Wordpress. Once it has been installed, it will be visible on your Wordpress dashboard. InMotion with BoldGrid offers several attractive templates which are fully customizable and are suitable for virtually all industries. When it comes to customizing pages, there are multiple elements users can add, move and make unique. In addition to adding pages, users can also add blocks of content, for further customization.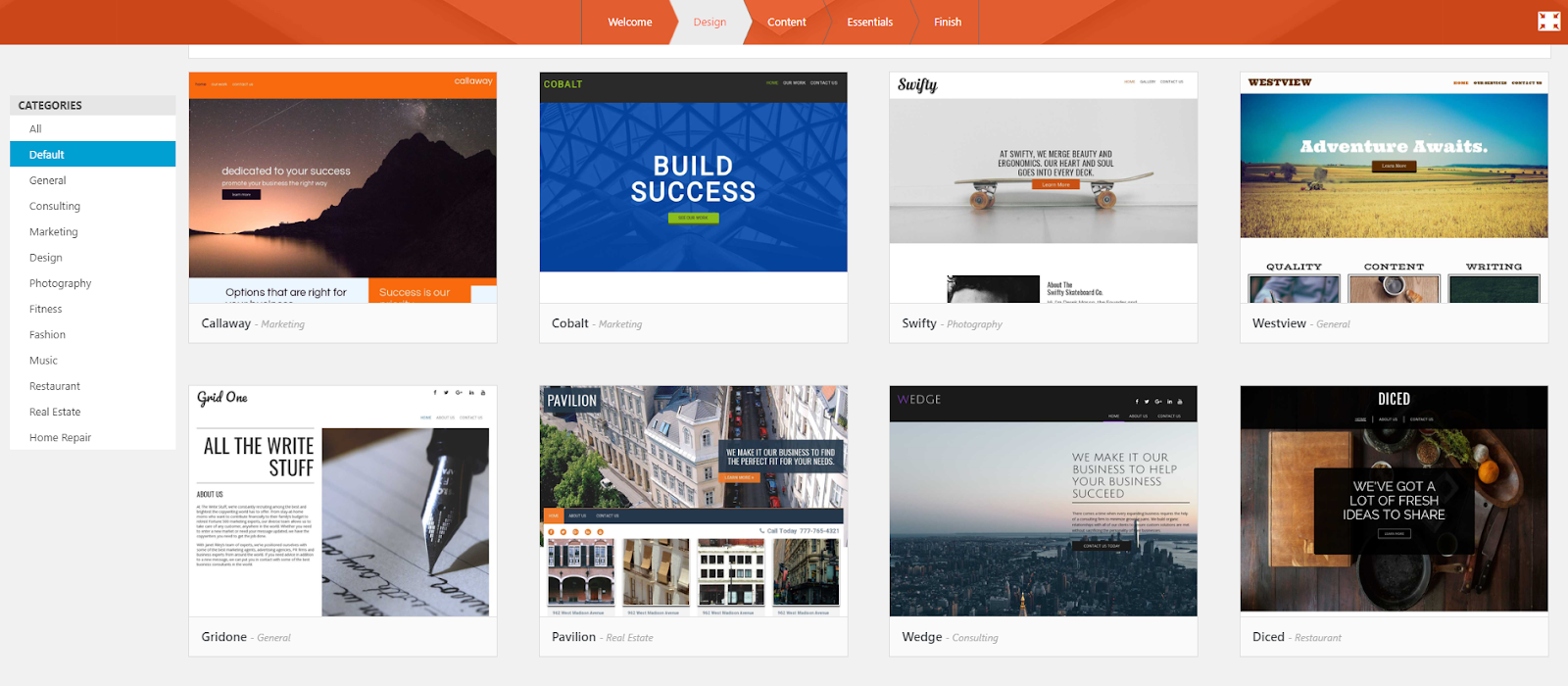 Inmotion's control panel is user-friendly and offers plenty of features right there rather than having to go to cPanel, their hosting control panel.
Customer Support
Inmotion provides exemplary customer service, primarily via live chat or phone. They also support their customers with videos, tutorials, and a detailed knowledgebase. The InMotion Hosting Community Support Center is a great feature and is full of customer asked questions and answers which will help so many others.
InMotion also offer a comprehensive listing of web resources to improve security and functionality for websites. The company appears to be sincere about treating their clients well and making sure that they are provided with the best services with timely responses to issues.
Domains And Email
Inmotion include a free domain in their hosting plans and this is chosen after you select your hosting package. Inmotion offer quite a few additional services before you choose your domain which may confuse some. Once on the domain step you must choose to purchase a new domain, use one you already own or decide later. If you enter the web address you would like to purchase and the domain is available, you will be shown additional domain results that may be suited to your business.
InMotion offers convenient ways to set up email. They have non SSL, SSL and webmail settings and access. The Email icon can be found in their Account Management Panel which directs to cPanel. Once setup, users can see their newly created email address in the main email accounts dashboard and they can check email, manage and connect other devices here too.