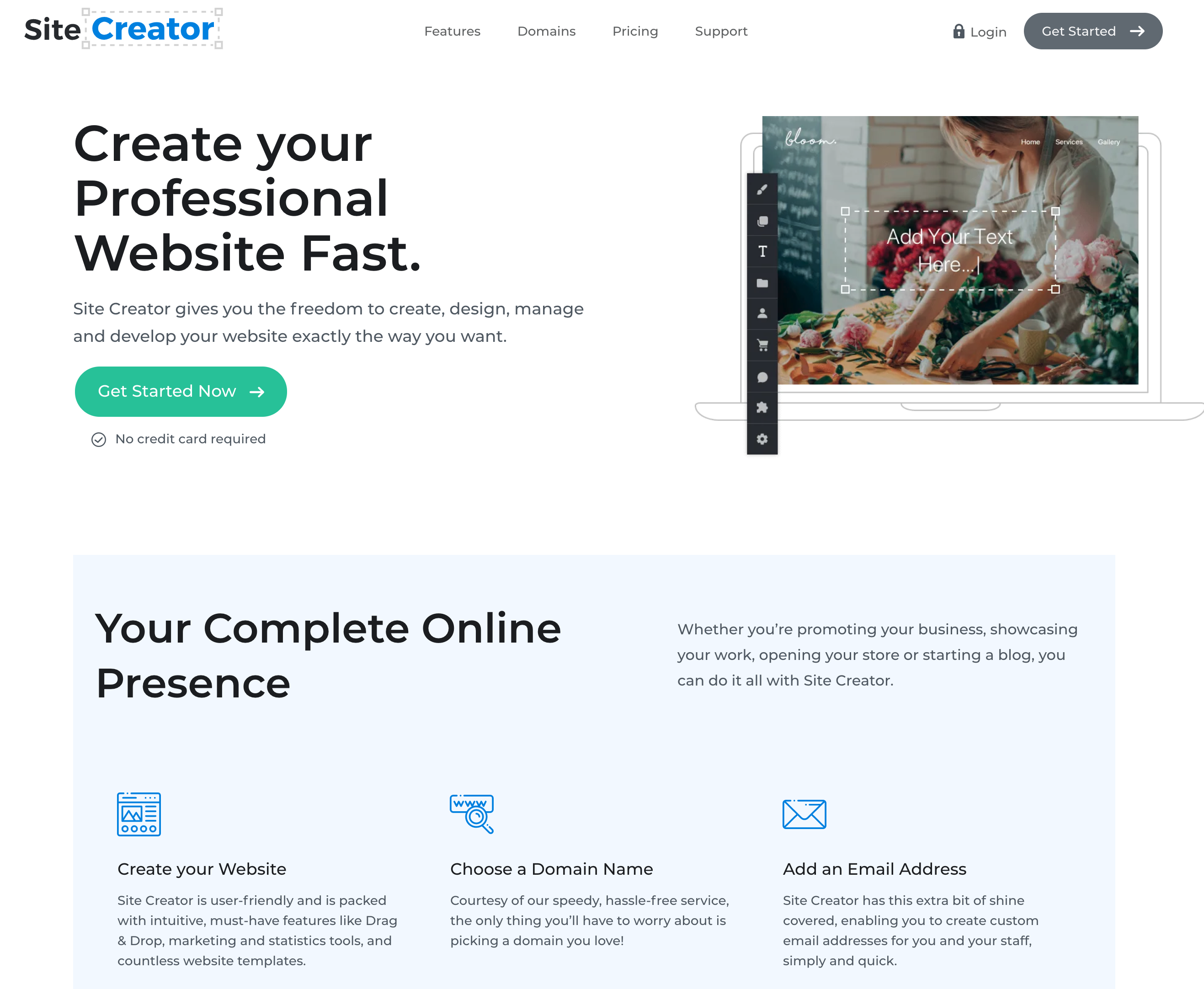 Services And Features
With Site Creator, there are 2 plans to choose from. Both include the industry standards such as a free email address, free SSL, unlimited traffic and 99.9% uptime guarantee. An impressive feature which makes them stand out from the crowd and is also included in both plans is a free domain for life, which translates as free for the lifetime of your subscription with them.
Their Standard plan is ideal for newcomers to site building and web hosting, providing all the essential features without overcomplicating things. Their top plan is called eCommerce and is best suited for people looking to sell products online. It includes a wide range of payment options for online payments and shopping cart styles as well as a second free email address and VIP Support.
Sign Up
Once you've decided on the right feature set for you, Site Creator directs you to choose your domain name. You can register a new domain for free from a wide list of TLDs or choose to use a domain you already own. It's worth highlighting at this stage that they provide an impressive money-back guarantee and all your information is protected by 256-bit secure SSL encryption. We all know it's hard to find the ideal available domain when searching, so it's nice to see that Site Creator offer similar suggestions if your first choice isn't available.
After entering an email address to create your Site Creator account, you will be taken to the payment page where you can choose the term for your subscription, 1 or 12 months. They accept payment via card or PayPal and recommend you apply domain privacy to any domain registrations at this stage for your own protection. They offer a helpful selection of additional services to compliment your subscription on the next step which includes Website Security and Website Backup and then you'll be shown a selection of available domain names similar to your primary which can help build up your brand.
Website Builder And Control Panel
Site Creator's website building tool is suited to all levels of technical experience. It's great for novices to the site creating world thanks to its flexibility, you can make simple tweaks to one of their existing templates, creating a custom site within minutes, or if you have a preconceived idea you will have no issues building it using their tool.
Each template selection comes with a helpful video guide which we'd recommend watching, it gives a helpful overview of the key features. It's easy to change your template, add in photo galleries, and they have a great selection of plugins for media, social and ecommerce.
The custom control panel used to manage all Site Creator accounts is very simple to navigate and provides easy access to all the necessary tools for managing your site. You can also purchase additional domains, services and email addresses here and instantly start using them.
Customer Support
Site Creator have included helpful video guides within their builder to help all new users quickly get to grips with the key components of the tool. They also are constantly updating their support knowledgebase to make sure any new customer queries are documented so others can quickly get hold of answers to their questions.
They provide the standard 24/7 customer support access, which can be done through email, live chat or on the phone. Their agents are clued up and are always helpful. Another support tool which many will appreciate is the ease of transferring an existing site to their builder. Whatever the previous site builder used, Site Creator can quickly import your content and have it up and running on their builder.
Domains And Email
As mentioned, Site Creator includes a free domain for life with every subscription which is a real bonus. Their Standard plan also includes a free email address while their Ecommerce plan includes 2 free mailboxes. The free entitlements are automatically applied to each account and are claimed during the order flow or once you are in your control panel. For those looking to buy additional business emails, Site Creator offers a bundle of 5 for only $19/year, each with 5GB of space, that you can easily access at the control panel.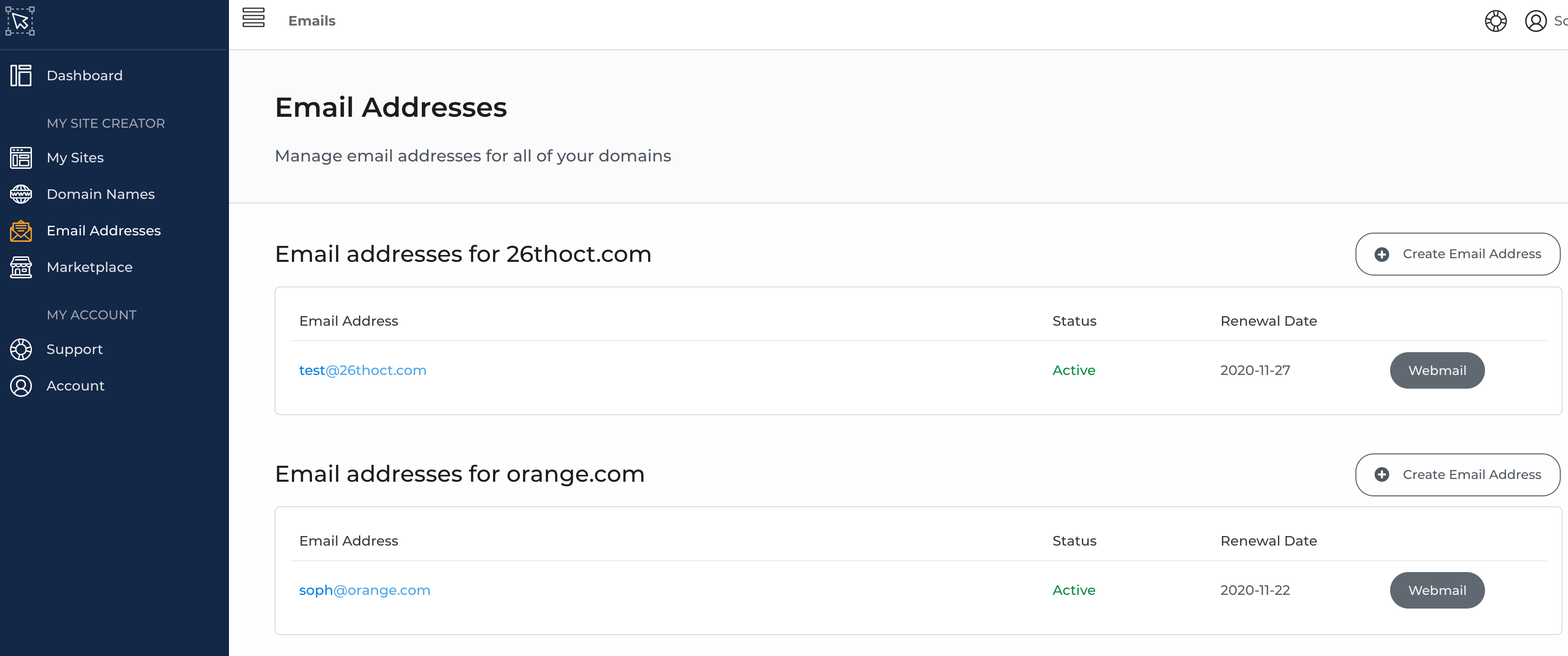 It's straightforward to register new domains within your Site Creator account and add them to your subscription if it's an addon domain or you can create a new subscription for a new website and domain idea. They offer registrations of every TLD you can think of at reasonable prices.