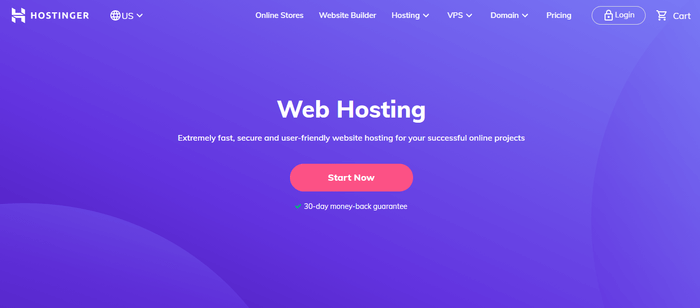 Services And Features
Hostinger offer a solid range of Shared hosting plans as well as Cloud and VPS hosting, what makes them stand out from the rest is their pricing. Their Single Shared Hosting plan initially costs less than $1/mo and renews at just over $2 which you will struggle to find anywhere else, this is for a 48 month term though. Unsurprisingly this doesn't include a free domain, but does give you 1 website, an email account and 2 subdomains. Features such as bandwidth are limited, but for many this bargain plan might cover all you need. Their Premium and Business Shared Hosting plans increase in features and price accordingly and include impressive features such as a free domain name, daily backups and a free SSL.
We'd advise you review their plans carefully to make sure you get all the features necessary for your website and don't get caught up in their eye-catching prices. Regardless of your choice, their 30 day money-back guarantee is a great safety net in case there is anything you change your mind about.
Uptime and site speed are two areas that Hostinger can be proud of. We can't stress enough how important a hosts uptime is and ideally they should offer an uptime guarantee, as what is the use of an expertly built website if it's constantly experiencing downtime? All Hostinger's plans come with a 99.9% uptime guarantee which we really like. They also have taken site speed seriously by having multiple data centers across the world. This sets their websites in strong stead when it comes to load times.
Sign Up
The sign up process with Hostinger has good and bad elements. They take you straight to their plan page where you can choose your term length and they clearly show the discounts offered on each. Depending on the plan you have chosen, you will either see the features included for free with your plan or the additional cost to add any. If you are drawn to any of these we recommend going back to review their plans as you may find it cheaper to upgrade your plan choice rather than pay separately for services.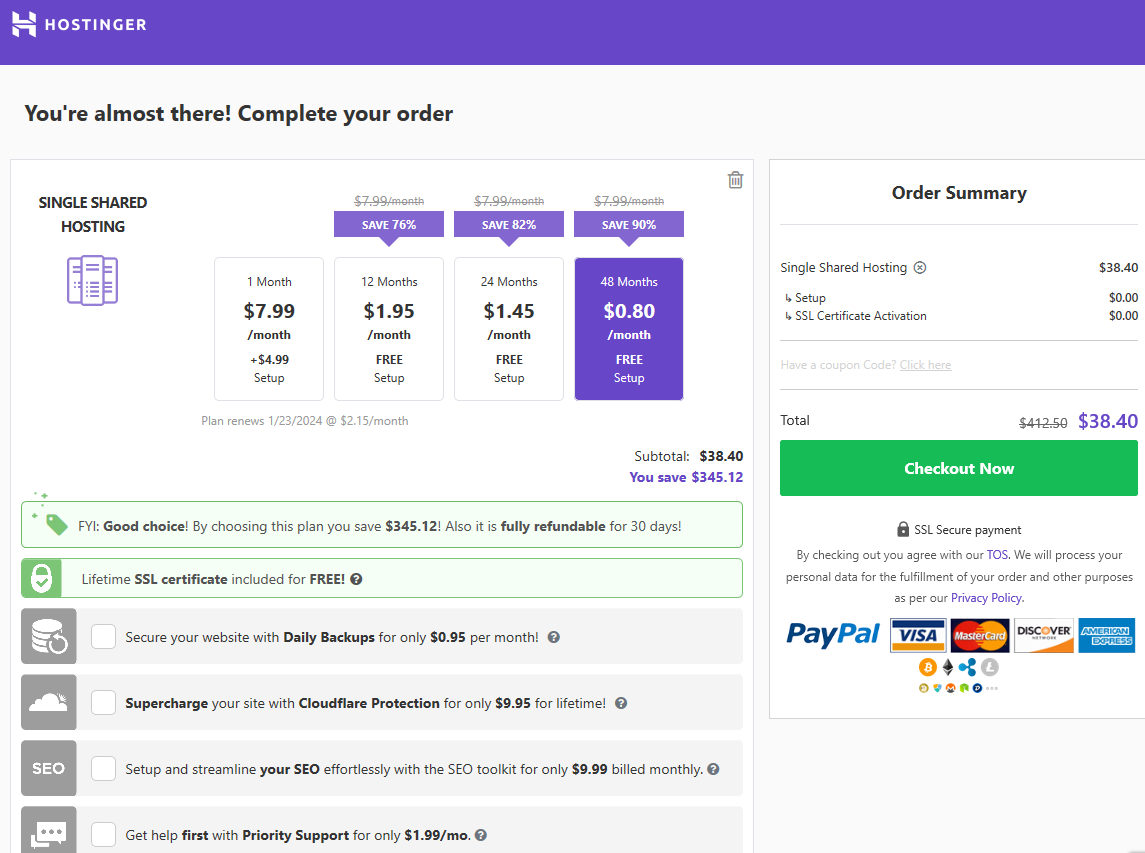 At the bottom of the page is also where you can claim your free domain. Frustratingly, if the domain you want is not available they don't offer any suggestions. They do however, let you continue without choosing a domain which means you can spend time later searching suitable options.
After being asked to create an account, you are then shown an impressive range of payment methods such as digital currencies as well as the usual card and PayPal options.
Website Builder And Control Panel
When it comes to building your site, Hostinger have spent time making your options as clear as possible and those choices are quite impressive. First you choose if you want to build a new site or migrate an existing and if it is a new site you want to build you have 4 options; WordPress, WooCommerce, Joomla or Other CMS. If you have used any of these programs before you'll be comfortable, but this could be a little confusing to newcomers as their website builder option isn't actually offered here.

Their WordPress setup is pretty smooth with template choices leading into questions that build your site for you. We will say WordPress isn't for everyone, that is why drag and drop website builders have become so popular, but for many this will be a simple site setup option.
After a bit of searching in their control panel, which is custom built, we found the Hostinger Website Builder which is managed by Zyro. All the usual tools that you'd expect from a drag and drop builder are included and the menus are relatively straight-forward. In comparison to other builders we've tested, we wouldn't say this is the easiest to use. It doesn't feel like too much of the existing templates can be edited and customizing to fit an idea you have may prove tricky.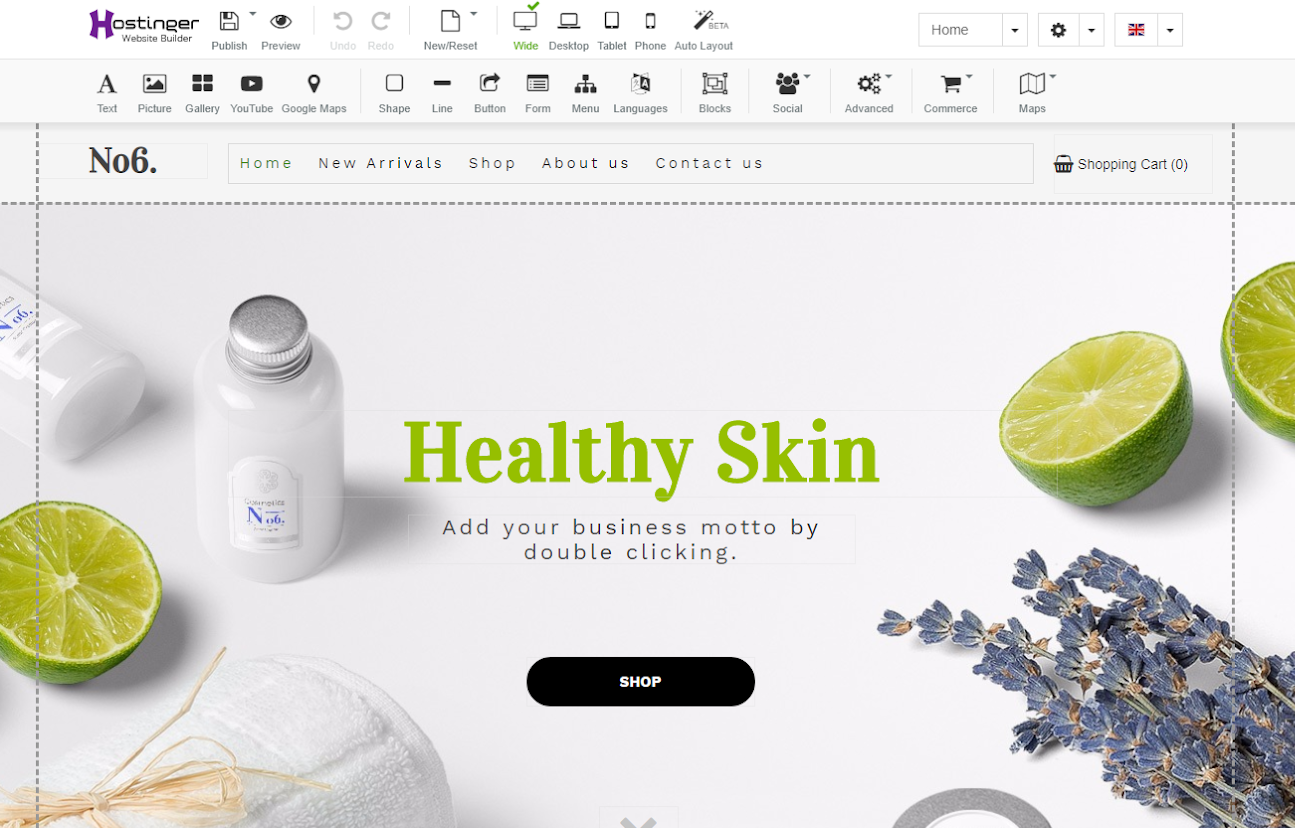 As mentioned, Hostinger don't use one of the traditional hosting control panels. Instead, they have built their own, allowing them the scope to adapt features for their customers which is impressive. The display and layout of the tools found in hpanel is eye catching, user-friendly and many may prefer it to the developer-style of cPanel etc, however, people used to the industry standard may struggle.
Customer Support
You'll be hard pushed to find a phone number or email address for Hostinger on their site, but once you are a paid customer you have 24/7 live chat at your disposal. Potential customers with any questions will need to submit a general enquiry via their contact page. They offer multilingual support via chat which isn't standard for hosts.
Their online knowledgebase is simple and split into 3 categories. The articles within those categories are displayed in a long list and could do with a bit more organisation to make it easier for customers to use. Once logged into their hpanel they have a helpful section of articles written by their team which include step-by-step guides and animated screenshots.
Domains And Email
Hostinger offers some really helpful tips on domains right on their website. This includes tips on finding the right domain which gets harder the more people jump online, as well as how to transfer a domain to them. As mentioned, a free domain name is included with their middle and top subscriptions and their pricing for additional domains is pretty competitive.
Included with those top 2 plans, you also get unlimited email accounts. Here is where the benefits of a custom control panel really shine as these can be easily managed in hpanel. You can set auto responders, catch-all emails, forward emails to an existing email account as well as view all of your essential email stats.